EF – "Delusions of Grandeur" – preorder up now!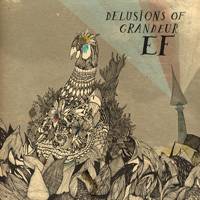 One of the amazing things about EF is that they are sweet and heavy at the same time; that they can convince an indie or post-rock crowd as much as a metal crowd. And unlike a lot of their fellow post rock band colleagues suffering from delusions of grandeur, EF know how to party! A wasteful backstage wingding in St Petersburg in February 2012, including several members of EF and The Ocean, resulted in the commitment to release this record on Pelagic.
The 25 minutes of music on this 10" record were recorded at the legendary Svenska Grammofonstudion in Göteborg by Oskar Lindberg (Soundtrack of our lives, Jeniferever, I'm from Barcelona) and once again mixed and mastered by Magnus Lindberg of Cult of Luna fame.
4 brand new songs featuring numerous guest musicians and big orchestrations. We have no delusions of grandeur when we say that these tunes are going to be groundbreaking for the band.
1st press limited to 300 copies on clear vinyl with splatter and 200 copies on black vinyl…