EARTHSHIP – "Iron Chest" – PREORDER UP NOW!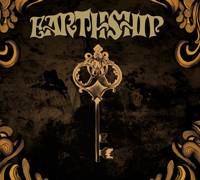 Over the last winter, Earthship immersed at Hidden Planet Studio one more time to rehearse and record their second album "Iron Chest".The album title stands for the soul of every single being on this planet, vulnerable and exposed to the cruel force of life, yet withstanding its lashes with iron rigor… and only opening up with the right key in the end… "Iron Chest" is a vile beast of an album, spitting iron nails in every direction, yet rich with groove and soul. EARTHSHIP's abrasive, heavy custom sound has grown and reached a new level of intensity.
A bunch of spring shows including a performance at Asymmetry 4.0 festival in Poland, Rockharz festival and another European / UK tour with their friends and label mates in COILGUNS followed in early 2012. On August 7th, EARTHSHIP will be supporting CROWBAR at their Berlin show.
As Rocksound (UK) put it, "It's pretty clear that Earthship are on the course for greatness".
comes in slick digipak packaging with special metallic colours.
TO BE RELEASED October 12th (GAS) / October 15th (Europe)
PREORDER NOW in the shop section!