ABRAHAM – "The Serpent, …" – preorder up now!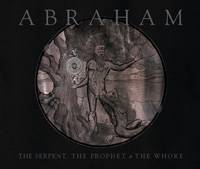 Abraham's second album "The Serpent, The Prophet & The Whore" was inspired by a novel by J.G. Rawls. In case you're not familiar with this writer, well, shame on you! A bit of Wikipedia research will tell you that Rawls lived at the beginning of the 20th century and died in an motel room somewhere on the East Coast. It is not exactly clear whether his works are authentic or not; they might have been written by college students trying to pull a prank. The title of his most well-known book is The Chronoception.
Abraham found this book on a flee market and used it as an inspiration for their second album. The lyrics were freely adaptated from the story, not wanting the record to become a literary illustration of the book. The story of an unnamed man falling from the sky to crawl through this world's lowest spheres; and the prevalent themes of falling from grace, primal fear, physical pain, loneliness and mystical visions resonated perfectly within Abraham's continuous state of mind.The music to this exploration of the human soul and consciousness was composed with these themes in mind and thus emerged darker and more tortured than what the band had done before.
Magus Lindberg from Cult Of Luna mixed the album and drove the contemplative aspects of their sound to even bleaker aural landscapes, while pushing its violent side further towards armageddon…
Expect to see the band live on stage in France, Germany, Belgium, the Netherlands, Denmark, Slovenia, Croatia, Czech Republic, Italy soon.
comes in a slick digipak with special metallic colours + booklet.
TO BE RELEASED September 28th (GAS) / October 1st (Europe)
PREORDER NOW in the shop section!